So it's been a while since my last update. I like to write when I have lots of news to fill you in on, rather than fill up your inboxes with zero information. Since my last update so much has happened and we've experienced so much. Where to start…
Thanksgiving. Oh my word. I thought it was we British that ruled on the manners and the "Thank you very much's" but clearly not. There was an awful lot of thanks going on here to the point where the schools were closed. I cannot tell you how much that amused me. When we were at Arnold House, Mr Thomas sent an email regarding the snow – if Arnold House had remained open during The Blitz, then it would certainly remain open during the snow. Business as usual. Well not here in LA. School closes so we can all say thank you – for a week! It was like a weird, cultish hangover from Halloween, a bizarre Return of The Pumpkin. Everyone was thankful and everyone ate pumpkins – pumpkin pie, pumpkin soup, pumpkin brûlée and pumpkin martinis. WTF??
Then we had our first Christmas. What to do in LA over Christmas with three children? Road Trip to Vegas! We packed them all in to the enormous, American-style bus that is my car (no more, my sexy little white Fiat) and off we went. Daniel and I clearly living out our fantasy of American teen movies. Who said America is lacking culture? It turns out Vegas was a very enriching and educational trip. Aside from the obvious child friendly "entertainment" that only Vegas has to offer, we went to an amazing Titanic exhibition with all the artefacts from the ship which was fascinating. We also went hiking in Red Rock Canyon on Christmas Day which is truly one of the most sensational forces of nature. Words cannot possibly describe how breathtaking it was. Bizarrely, deep in the Nevada dessert, there was snow.. so we had a white Christmas after all.
Going back to school in January was very strange and not at all what we're used to. Yes people, it's still sunny! Thank the Lord. That's what I signed up for and I'm not over it yet!
We experienced our first trip to ER (A&E). Harry, thumb, gross, stiches, on the mend now, sparing you the details. Daniel was away (obv) and I was alone in a new country with three children and finding myself doing several trips to the hospital over the weekend. Definitely a moment where I really "felt" like I had moved far away from everyone and everything I know and love. Where are Mummy and Dr Wengrowe in a moment like that? So that wasn't my favourite experience to date. I learnt very fast that I had to "think and speak American" to deal with it. It's all about ER. Minus George Clooney. He hurt himself at school and they looked after him well so as a token of thanks, I bought the teacher a huge box of Godiva chocolates – and then I ate them all myself because I was so stressed!
Gentlemen… look away now. Ladies, I'm sorry to inform you that laser hair removal is in a different stratosphere to London. It is fast, literally painless and you don't have to avoid the sun. I'd actually go so far as to say it's a very relaxing experience, chilling on the treatment bed, having a chat and surfing Facebook. Certain friends, who shall remain nameless but you know who you are… will remember our chat over our posh lunch about the agonising laser treatment at The Royal Free… for your next patch, come and stay with me!
Schools. I have an issue here. Who started the myth that American schooling wasn't nearly as hard as British schooling? Whoever you are, wherever you are, I will hunt you down. Oh yes, we are all still reeling with shock at the amount of work and the level of academia going on here. I think it kicks in around 7th grade (year 8). I would say that this is definitely the area we were least prepared for. Smug British. Didn't work for us. Major shock to the systems and not quite recovered. And by the way, don't ever raise your hand in class and ask to borrow a rubber here… as Jessica will testify, it means something quite different.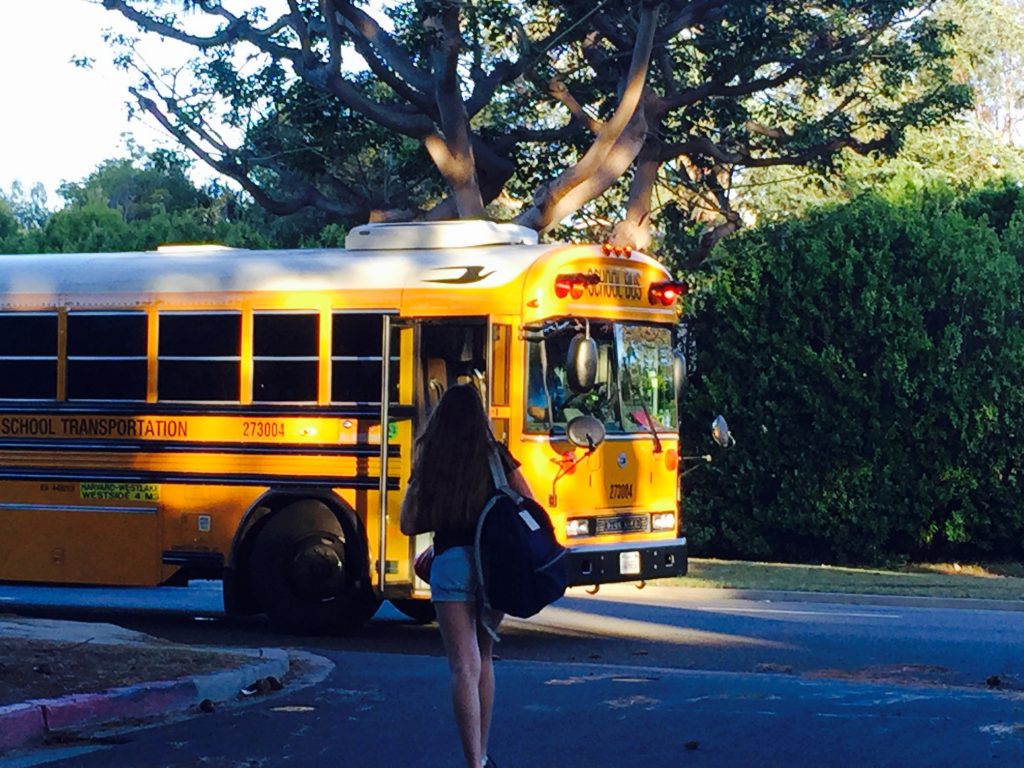 Basketball season is upon us. Oh gosh. Tamsin has to play four times a week with Gd knows how many matches that I go and watch. I have absolutely no idea what the hell is going on (not sure she does either). I'm all about netball myself and don't get why they are allowed to run with the ball but what do I know? They turn the music up loud and the gym is rocking and I guess I have a good time on the sidelines, giggling to myself about it all. Jessica and Harry are in to Soccer (can't call it football, lest some giant in an Incredibles Suit pummels you to the ground) and they play outdoors under beautiful sunsets. No standing on the sidelines in the freezing cold for us any more. Sunscreen!
Occasionally it rains. Not my definition of rain, I can tell you. We're talking the odd drizzle. I would say more humid quite frankly but here they think it's a monsoon. It's hilarious. "Stay safe in the rain," say they.
Until the next time… I will leave you with the true fact that there is a man who walks around Santa Monica with his pet pig on a pink lead…
Lots of love,
AC xxxx