Something usually triggers me to write my next update and I can never predict what on earth that might be…
Today, I take to my keyboard following an unexpectedly freakish Mother / Daughter trip. My baby turned 12 and was promised a special outing to get her ears pierced. I tell you this child has waited her entire 12 years for this moment and who am I to disappoint?In the absence of Girish, the lovely pharmacist at Landy's, Temple Fortune, I had to do my research on where to have this done in LA hygienically.  The choices were the pediatrician or "the place on Melrose." Didn't fancy the pediatricians much for my girlie day – did totally fancy a trip to Melrose Place.
And so we arrived, Jessica, Tamsin and I, at Body Electric Tattoo and Piercing Parlour.  Never in my wildest imagination did I picture taking my little girls to such a place! First the shock, the judgements, the lack of oxygen on the inhale; next the rapid mental scoping of the cleanliness levels all round.
Move over Girish. Dom the female tattoo artist come child piercer did her thing and Tammy has her first and only ever piercing!
What an experience! Although not the craziest.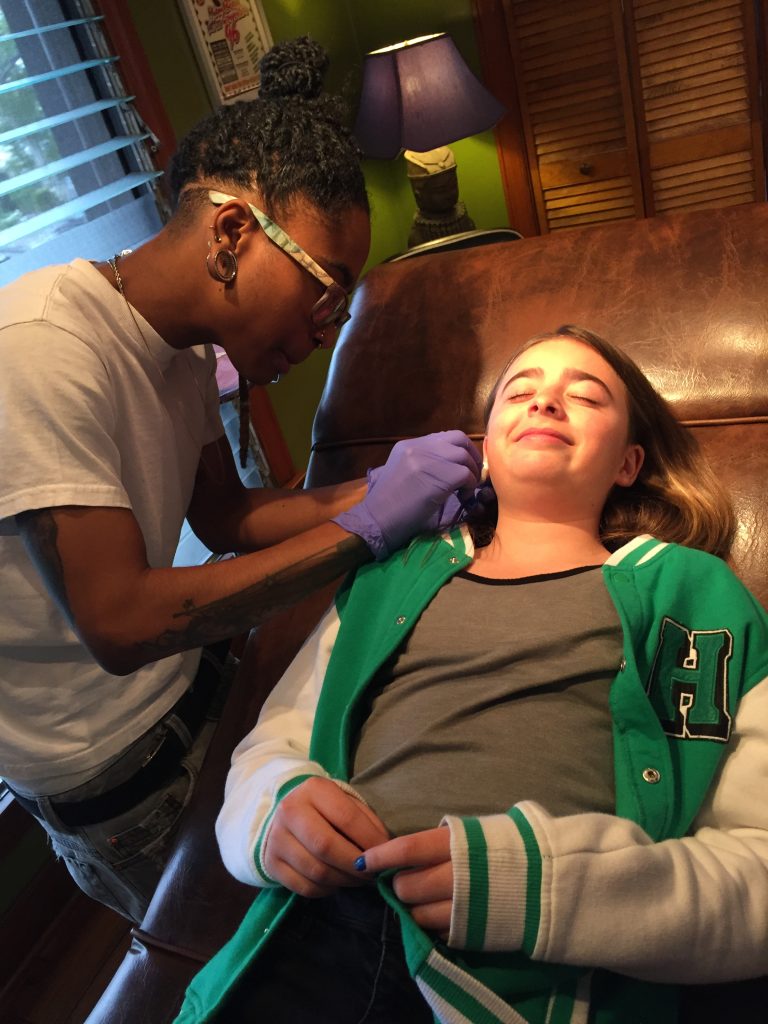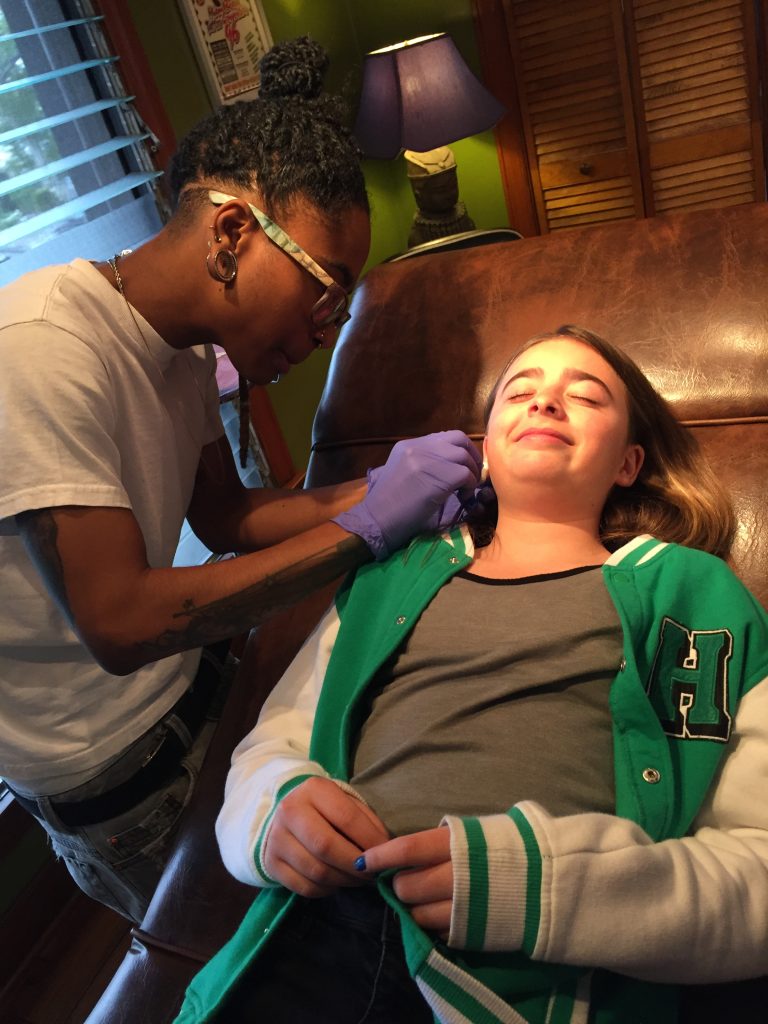 I went to the Sedona Yoga and Healing Energy Festival. Sedona is in Arizona, and one of the most spectacular and beautiful places I've ever been (outside of North London of course)! It has these enormous red rocks on natural energy vortexes so it's a natural phenomena and a very healing place on Earth. I can't possibly do this Festival justice in email but it must be attempted… here goes… I think I met the real life Hobbit who lives in an eco house built in to a hill underground. Said Hobbit is female and "bleeds in to the ground" under the Juniper Tree and suggests we all do this when we go home, with our daughters as apparently, in the shire, it's a dying art. Somehow, Hobbit, I don't see that happening in my back garden in Santa Monica. Then I met a yogi who looks about 75 but is actually about 570. She demonstrated a move that I reckon is her secret to her youthful looks. She called it "Offering My Tailbone To the Light." This move was not human and I don't believe it is possible, I'm sure I dreamt it. I definitely could never replicate it and nor could any of you! It was bizarrely fascinating to watch – I kind of didn't want to but I kind of couldn't stop!
Joking aside, we did yoga on these magnificent rocks, saw planet Jupiter with its breathtaking belts so clearly and met wildly different and interesting people that I'd never get the chance to spend time with otherwise.  I experienced so many things I will never, ever forget and living so close, being able to go to beautiful Sedona, Arizona for the weekend is a novelty I can't imagine will ever wear off.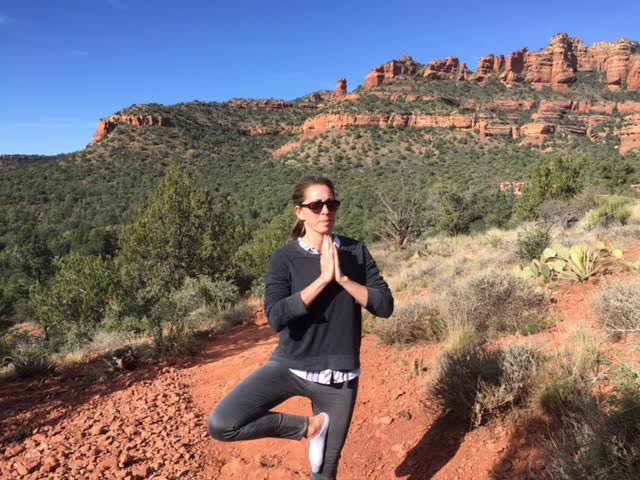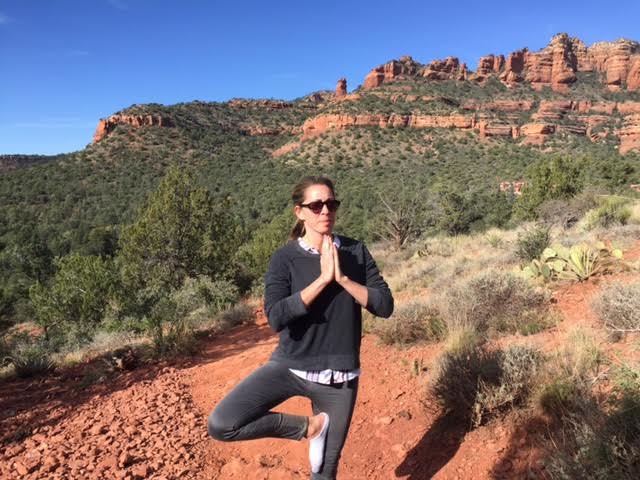 I've seen Leonardo di Caprio, Arnold Shwarznegger and Cameron Diaz. These are major sightings, akin to seeing a Killer Whale in the natural habitat. All three are quite underwhelming in real life. Leo's looking a bit podgy and old and I'm not loving the facial hair. Hearing their voices is a little spooky, I have to say.
Jessica's entire staff body did a flash mob in Assembly to "Watch me Whip, Watch me Nae Nae."
Harry is about to drive at the tender age of 15 and a half.
Tammy has an American accent.
Oh Lordy, on all fronts.
The accent is one thing, the language is quite another. I'm baffled on a daily basis and I'm losing my children to this new lingo that I don't understand… I am to them what my mother is to me when she can't work out how to take a picture on her iPhone (sorry Mummy, you know what I mean). Jersey is sports top, spandex is volleyball shorts, a tank is a tshirt, lox is smoked salmon… the list is endless. And none of these come from any Latin route that I can work out and translate correctly. I find myself in a constant state of "I don't understand. No comprendo." Help! One thing I do know, and I am sticking with it, I don't care about assimilating – there is NO SUCH WORD AS "GOTTEN," in the English language. And I am English. I do not, and will not ever, refer to myself as British and the word "gotten," is a grammatical nightmare that someone needs to do something about urgently. Could Donald Trump be up to the task?
I'm living in a place where Gluten Free is an epidemic. I resent this when I go to a restaurant and knowingly, willingly and more to the point wantingly order the chocolate brownie and I'm told it's gluten free. I don't want a gluten free version. I actually specifically chose to have the god damn brownie and I want it, gluten and all. Apparently in this particular establishment, the glutenous alternative was not an option. Bugger.
We've lived through our first winter in the land of sun and palm trees. The winter sunsets over the sea are spectacular, the sky is big and clear, the moon is huge and so bright it doesn't look real. California living is chilled, laid back, balmy, creative and so incredibly seductive. I have no idea what the future holds, if this is forever, who knows. I do know that this experience is utterly life changing for all of us and we are embracing all of it. Except the rain today. I'm not ready to embrace that yet!
Summer is around the corner (we break up at the beginning of June) and we're all so excited for many friends to be coming to LA on "vacation." I know lots of you have GCSE's coming up so sending tons of luck for those.
Please do reply with all your news – I really love hearing from everyone – it makes me feel.. here we go with a full on Americanism.. "connected." (Ha ha Mr Y, I told you I'd get that one in…)
Finally – we had Valentine's Day here. Cannot. Just cannot.
Lots of love to you all,
AC xxx